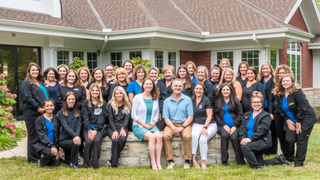 At Cassinelli, Shanker, & Associates Orthodontics, we have worked for years to bring quality care and an elevated orthodontics experience to the West Chester Township and Blue Ash communities. Our practice has quickly become a staple in these areas because our family of patients understands that we are a team of highly qualified professionals who truly care about creating timeless smiles. Under the expert guidance of three board-certified orthodontists, we've been able to serve our patients and their families well and create beautiful results along the way.
When you choose our practice for corrective treatment, you benefit from the care of our doctors, who each have a passion for perfection. We carefully arrange smiles so that you can have beautiful aesthetics as well as improved oral health. We understand that every patient and smile has unique needs and goals, and we work diligently to craft customized treatment plans that tend to every circumstance. We are proud to serve as a trusted authority in orthodontics, and we frequently treat the families of local dentists and train the next generation of orthodontists so they can create a legacy of beautiful smiles as we have.
Patient Experience
From the moment you step through our doors, you will be greeted by a welcoming team and a high-end office. We want to honor your investment of time and money into getting the smile of your dreams, so we have cultivated a culture in our practice that prioritizes patient experience and comfort. As a result, you will always experience professionalism and efficiency during appointments. Still, you'll notice our team has a lot of fun because we have a passion for our work and enjoy bonding with our patients during their time in treatment.
Our team is driven by the knowledge that we get to help craft dream smiles for our patients and provide them with the highest level of care possible. We love our communities and have gained the trust of our neighbors by building relationships with patients and giving them consistently beautiful results.
Your First Visit
During your first visit, we will perform a comprehensive exam that allows us to identify your orthodontic needs and better understand which appliance would be the best for your treatment. In addition, one of our team members will take photographs and X-rays to get a closer look at these orthodontic issues.
You will also have the opportunity to speak to one of our knowledgeable doctors, who will walk you through their recommendations while taking into account your personal treatment goals. Our goal is to craft a custom treatment plan that gives you the smile of your dreams while improving the health and function of your teeth, mouth, and jaw.
Affordable Payment Plans
We don't want there to be anything stopping you from achieving the smile of your dreams, and this is why we offer affordable payment plans so that you can easily budget your treatment. Our team is always available to help you with insurance claims and paperwork if you have insurance that will be covering any portion of your orthodontic treatment. Please let us know if you have any questions about your insurance coverage and how we can help make your entire orthodontic experience a pleasant one.
Results That Are Proven to Work
We will never stop short of excellence in our work, and this is why we have refined our treatments to perfection so you can achieve a beautiful smile that lasts a lifetime. These treatments include traditional metal braces, clear ceramic braces, and clear aligners. Braces are a staple of orthodontics and have been refined to perfection for ultimate efficiency and aesthetics. However, If you are looking for a more discreet form of corrective treatment that offers flexibility, our clear aligner treatments are the perfect choice for you.
Each of these appliances has been designed for ultimate patient comfort while providing consistent results. Based on your orthodontic needs and goals, we can get you outfitted with the perfect treatment for your lifestyle. Our passion for providing excellent care to our patients' families drives us to adopt technology and appliances that help us better serve everyone who visits our practice. We are excited to guide you on the journey to a better smile, and we look forward to seeing you soon.