What Are SureSmile Aligners?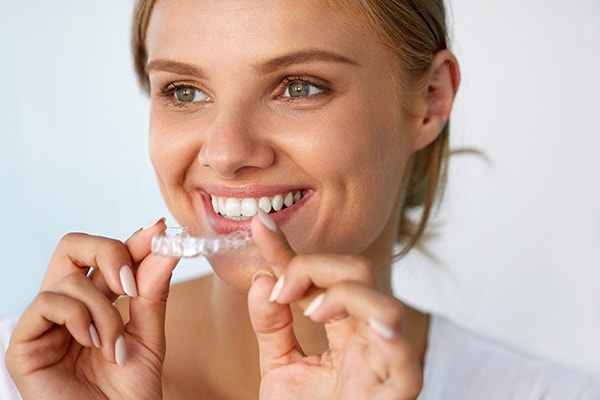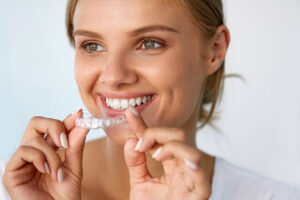 The SureSmile clear aligner system is a form of orthodontic treatment that uses clear, removable trays to straighten teeth. They are a great alternative to traditional orthodontics if you want a straighter smile but do not want to wear metal braces or if you have had treatment in the past and want to make corrections to your smile.
How Does SureSmile Work?
We use 3D digital modeling software to create detailed images of your teeth. This allows us to make corrections to your teeth and bite, placing small, tooth-colored attachments where necessary.
Each aligner is custom-made to fit over your teeth and designed to move teeth into their proper position gradually. Like braces, clear aligners use gradual force to control tooth movement without any metal wires or brackets.
Our SureSmile clear aligners are more customizable than other name brands because they are curated in our in-house lab, located at our West Chester and Cincinnati orthodontic offices. Adjustments to your treatment can be made more quickly because of our lab, as attachments can be added or removed sooner, which means you don't need to wait for weeks at a time to get refined trays back.
Aligners are worn for at least 20 hours each day and for two weeks at a time before putting in a new set of aligners. The length of treatment depends on each patient's case; it can take anywhere from six months to two years.
What Makes SureSmile Unique?
At Cassinelli, Shanker, & Baker Orthodontics, we take a personalized approach to your smile and use scientific research to back our treatment offerings. Drs. Alex Cassinelli, Shiv Shanker, and Robin Baker are consistently active in current-day research and are all board-certified orthodontists. We treat our patients like family and take pride in our commitment to perfecting your smile.
The Role of Attachments in Clear Aligner Treatment
For most adult patients, the appeal of clear aligner treatments (such as SureSmile or Invisalign®) is the aesthetics and convenience. Aligners are less visible than traditional or ceramic braces. An important part of a clear aligner treatment plan involves using small buttons or attachments to help guide your teeth into their new position.
Here are some of the most common questions about attachments if you are considering clear aligner treatment.
What Are Attachments in Clear Aligner Treatment?
Attachments, or 'buttons' as they are sometimes called, are small white tooth-colored shapes affixed to the teeth during clear aligner treatment. Due to the round and smooth shape of teeth, attachments help move the teeth with precision in the correct direction to achieve the best result most efficiently. Our orthodontists will design the attachments specifically required for your individual treatment.
Why Will My Orthodontist Use Attachments?
Attachments provide the aligner with a surface to push against and improve the tooth's ability to move. Think of it as a small handle on a door. Since the form-fitted plastic used in clear aligners is not as rigid as the metal used in traditional braces, sometimes the flexibility in the materials need to be compensated in the areas that require movement. Alternatively, attachments may be used to facilitate movement by changing the shape of the tooth.
Are All Attachments the Same?
Clear aligner attachments can come in various sizes and shapes, and your orthodontist will prescribe the correct attachments for your treatment. The shape and placement of the attachments are very important as they are oriented to deliver the right type of force to help the tooth move or rotate without placing unnecessary stress on the roots.
Can I Remove My Attachments?
No. The attachments are virtually invisible and are made from a tooth-colored white filling material, glued to your teeth' surface and removed when aligner treatment is over. In most cases, the attachments are barely noticeable with or without the aligner trays in place.
Are SureSmile Aligners Right for You?
SureSmile clear aligners can be worn by mostly anyone, but each case is at the discretion of Drs. Cassinelli, Shanker, and Baker to ensure best practices for each patient and individualized patient care. We typically see patients around the ages of 18 and up find success from our SureSmile Clear Aligners.
If you're interested in orthodontic treatment with SureSmile clear aligners, schedule an appointment at our West Chester or Cincinnati locations and learn whether this is the right treatment option for you. Your complimentary exam is the first step toward achieving the beautiful smile you've always wanted.
Invisalign
Drs. Alex Cassinelli, Shiv Shanker, and Robin Baker have completed hundreds of Invisalign cases in Cincinnati & West Chester! Considering Invisalign to get the beautiful straight teeth you've always wanted? Read more below to find out why you should choose us for your Invisalign Treatment!
Why Choose Us For Your Invisalign Treatment?
Dr. Cassinelli, Dr. Shanker, and Dr. Baker are orthodontic specialists, having completed 3 additional years of specialty training after finishing their doctoral dental degree. They are also board-certified, an elective process whereby the American Board of Orthodontists certifies a small proportion of orthodontists who have presented completed orthodontic cases and undergone an oral examination by the Board. Both doctors have also undergone specialized training in the use of the Invisalign appliance and have treated many patients to a successful outcome. However, the Invisalign appliance system is used by both dentists and orthodontics, Drs. Cassinelli, Shanker, and Baker, being board-certified orthodontists, are better trained to meet the most challenging orthodontic problems due to their specialized training and experience.
Complimentary Exam
Initial consultations and treatment plan presentations, including X-rays and other patient imaging, are complimentary. An individualized treatment plan is developed for each patient, and there is no fee until the treatment is implemented. Our fee structure is based on the complexity of care, and we strive to make care affordable to our patients while at the same time ensuring a very high quality of care and patient satisfaction.
A Comfortable Experience, Start To Finish
First and foremost, our efforts are directed at patient comfort. Invisalign treatment is non-invasive and, therefore, associated with minimal, if any, discomfort. We have convenient appointment times available for both our child/adolescent and adult patients. Each visit is personalized for each patient's needs, and the doctors work very hard to see each patient timely.
Less Visits!
The number of appointments needed is dependent on the needs of each patient. On average, the range is 6 to 10 visits, typically with 3-5 week intervals between them.
Shorter Visits!
The first 2-3 Invisalign visits take approximately 45 minutes each. Once the Invisalign treatment has been started, each visit may only last 15 – 20 minutes.
No Messy Molds!
We have introduced the latest scanning technology, a very comfortable, accurate, and non-invasive method to capture a 3 -dimensional image of our patient's teeth. This technique involves taking multiple images of the teeth and mouth structures and eliminates the need for taking traditional impressions, which many patients have found uncomfortable in the past.