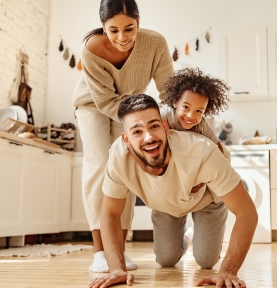 It's never too late to get a beautiful and healthy smile that lasts a lifetime. With clear aligners, our adult patients can achieve the smile they've always wanted with an effective and discreet corrective treatment. Our practice is dedicated to delivering the highest quality of orthodontic care to our communities, and we pride ourselves on our attention to detail and advanced techniques. Our doctors are board-certified orthodontists who are experts on clear aligner treatments, so you can feel confident that you are receiving care that has been tailored to you and will perfectly address your orthodontic needs and goals.
Why Should I Get Clear Aligners as an Adult?
More adults than ever are seeking corrective treatment because of the improved aesthetic and efficiency of these appliances. Clear aligners are virtually invisible and have an equal success rate to braces treatment, and our patients love that clear aligners fit into their lifestyle so easily. We suggest that you wear your aligners for at least 20 hours, but this leaves wearers a few hours to take them out to eat, take pictures, present at a meeting, and more. The only impact corrective treatment should have on your lifestyle is a brand-new smile that improves your confidence and oral health.
While many people are aware of the beautiful aesthetics that come with a straight smile, it's also important to note that by correcting the position of your teeth and jaw, you can improve your health. When you have overcrowded teeth or a misaligned jaw, you may experience difficulty or feel discomfort while speaking, chewing, biting, and more. Many adults have orthodontic issues that have gone untreated, developed after earlier treatment, or occurred because of an accident. You deserve to have a fully functioning smile that is just as healthy as it is beautiful. With clear aligners, you can take control of your oral health and achieve a smile that's timeless.
How Will You Start My Treatment Plan?
While every treatment plan is unique, they all start in the same way. We will perform a comprehensive exam and take a 3D image of your mouth and jaw. This image will be used to create a digital model of your teeth that we can observe and make adjustments to so that you can get a glimpse of what your smile will look like after you've completed treatment. Once we've decided on the desired results, we will use this image to print custom clear aligner trays that fit snugly over your teeth and provide consistent pressure to shift them into the right position.
We print our clear aligners in our office using a 3D printer, so we have more control over the adjustments and can get your aligners to you almost immediately. While we don't print Invisalign in-office, we can also get these aligners to you quickly so you can start the journey to a better smile right away. Once you start treatment, you will receive a new set of aligners every two weeks that will be slightly changed to gradually move your teeth closer to the planned results.
How Long Will My Treatment Last?
Your treatment will be crafted based on your unique orthodontic needs and goals, so it will look slightly different than any other patient's progress. If you have more extensive problems, it may take longer for the clear aligners to correct the issues and create your dream smile. While every case is different, most clear aligner patients complete treatment within eight months to two years. To figure out what a realistic timeline would look like for you, we suggest coming in for your complimentary first visit so our doctors can perform a comprehensive exam and give you more insight into the process.
How Much Will My Clear Aligners Cost?
The cost of clear aligners varies from patient to patient, but we believe that all of our patients deserve the opportunity to achieve a happy and healthy smile. This is why we offer affordable payment plans and work diligently with insurance providers to make sure you can easily budget for this life-changing treatment.
How Do I Sanitize Clear Aligners?
Keeping your aligners clean is easy, and you only have to add one more step to your daily oral hygiene routine. When you take your aligners out to brush and floss every day, use your toothbrush and warm water to scrub away any harmful bacteria from your appliance.